"A Bard's Lament"
(7x01)
Airdate
2017-02-09 19:00 PST
Chapter Order
Previous
Next
Airdate Order
Previous
Next
"A Bard's Lament" (7x01) is the first episode of the seventh chapter of Critical Role. Grog has a one-on-one rematch with Earthbreaker Groon. Vox Machina says farewell to a dear friend, but they meet someone new the very next day.
Synopsis Edit
Pre-Show Edit
Announcements Edit
Previously on Critical Role Edit
"Vox Machina—having just completed the destruction of the Chroma Conclave, a scourge of ancient chromatic dragons that had terrorized the countryside—they are victorious, yet in the process lost a couple of lives. Percy returned, and Scanlan, his lifeless body brought back to Whitestone, they completed the ritual correctly, and he came to life, however he remains unconscious in a pseudo-coma. They left him in Whitestone, hopefully to recover, while beginning to finish up some of their last business that they've been unable to with the rush of this current arc.
"They made a journey to Vasselheim where they walked through the Abundant Terrace and into the Birthheart itself, the temple of Melora within Vasselheim, spoke with one of the various worshippers there, and buried a box of ashes, apparently, of Senokir's wife as a thank you for when [they] journeyed and met him in the City of Brass on the Fire Elemental Plane.
"Upon doing so, [they] then began to scatter about the city to do some business, one of the elements of which Grog Strongjaw, along with Pike, made their way to [the Quadroads], which is the Kord section of the city. Returning to the Trial Forge, the temple to Kord, and upon walking to the center of the strangely empty temple structure [they] saw, down in a once-previously-traversed sandpit, there stood Earthbreaker Groon, the high priest of Kord, who then turned to [Grog] and asked [him] to "show [him] what [he] had learned." After slamming his feet into the sand and preparing himself for conflict, he beckons [Grog] towards him."[1]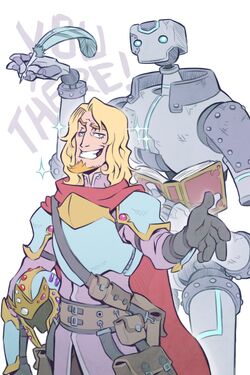 Featured Characters Edit
Vox Machina Edit
Returning Edit
Appeared Edit
Mentioned Edit
Inventory Edit
Quotations Edit
External Links Edit
References Edit
↑ See "A Bard's Lament" (7x01).[citation needed]
Art:
Ad blocker interference detected!
Wikia is a free-to-use site that makes money from advertising. We have a modified experience for viewers using ad blockers

Wikia is not accessible if you've made further modifications. Remove the custom ad blocker rule(s) and the page will load as expected.