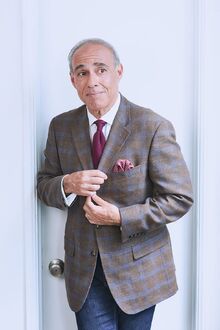 Darin De Paul is a voice actor who guest starred as the elderly gnome Sprigg in "The Fear of Isolation" (8x06) and "The Endless Atheneeum" (8x07).
On Talks Machina, the host Brian Wayne Foster likes to "#ThankMyGuests" with names that are either mispronounced or wordplay that sounds close to their names. Here are the names for Darin De Paul so far:

Da-Rin "The Rock" Johnson
Darling of All
Can get you so emotionally invested in a character in two episodes that you would die for him.
Voices Reinhardt in Overwatch (English)
References Edit
Critical Role Actors
Main Cast
Guest Stars

 

Special Events and Non-canonical Episodes

Guest Stars
Ad blocker interference detected!
Wikia is a free-to-use site that makes money from advertising. We have a modified experience for viewers using ad blockers

Wikia is not accessible if you've made further modifications. Remove the custom ad blocker rule(s) and the page will load as expected.