Exandria is the name of the world on which most events of Critical Role take place.[2]  Exandria exists in the Material Plane, although it features connections to other planes of existence, such as the portals to the elemental planes guarded by the Ashari.
Many different languages were spoken across Exandria. Common was the most widely spoken among humanoids, though most races also had their own language.
See History of Exandria.
Calendar Edit
Continents Edit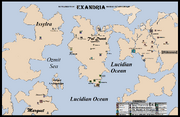 Gwessar / Tal'Dorei:  A northern continent[3] which contains the kingdom of Tal'Dorei.
Issylra:  A continent northwest of Tal'Dorei that contains the region of Othanzia,[4] which includes Vasselheim and Pyrah.
Marquet:  A southern continent made up of approximately 30% mountainous[5] and 70% desert regions[3], there are few bastions of civilization to be found aside from Ank'Harel.
The Shattered Teeth: while not technically a continent, this archipelago of 43 islands lies southeast of Tal'Dorei (beyond a fog bank called the "Fool's Curtain")
The Underdark:  This subterranean region is isolated and distinct from the political, social, economic, and environmental regions of the surface world.
Wildemount:  Located to the northeast of Tal'Dorei, this continent is largely isolated and, outside of Draconia, has little contact and next to no trade with the outside world.[citation needed]
Bodies of Water Edit
Satellites Edit
Exandria has two moons.[6][2][7]
One moon is similar in appearance to Earth's Moon, though it is closer to Exandria and appears larger in the sky.[7]
References Edit