Chapter(s)
SpecialsC1
C2
C3
C4
C5
C6
C7
C8
Creature Type
Humanoid Undead (Shapechanger)
Stats
Character
Physical
Mental
HP
–
STR
–
INT
–
AC
–
DEX
–
WIS
–
DC
–
CON
–
CHA
–
[[:Category:{{{FanArt}}}|Fan art of Sylas Briarwood]]
Lord Sylas Briarwood[1] was the vampire co-ruler, along with Lady Delilah Briarwood, of Whitestone and other lands to the north after usurping the de Rolo family. As an NPC, he was played by Matthew Mercer.
Description Edit
Appearance Edit
Sylas was a strong, tall man, with short brown hair framing his chiseled and handsome face, which was adorned with a well-groomed goatee. When Vox Machina first met him, Sylas's clothing was predominantly blue and black with gold and red trim. He wore a strip of gray fur cresting over one shoulder and framing his torso.[3]
Personality Edit
Biography Edit
Background Edit
See: Briarwoods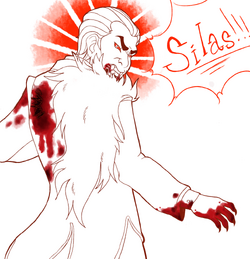 Relationships Edit
Character Information Edit
Abilities Edit
Notable Items Edit
Quotations Edit
Travis Willingham was dressed as Lord Briarwood during "The Coming Storm" (6x04), which aired the week before Halloween 2016.
In the Critical Role Major Arcana Tarot Card Set, he along with his wife, Delilah, represent VI - The Lovers.
References Edit
Art:
Ad blocker interference detected!
Wikia is a free-to-use site that makes money from advertising. We have a modified experience for viewers using ad blockers

Wikia is not accessible if you've made further modifications. Remove the custom ad blocker rule(s) and the page will load as expected.