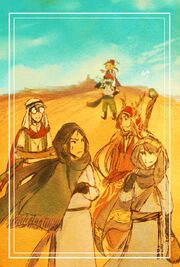 Marquet[1] is one of the continents on the world of Exandria.[2]  A continent of mountains[2] and approximately 70% desert[3], there are few bastions of civilization to be found.
Notable Places Edit
Ank'Harel is a large, central oasis city.
Shandal[spelling?] is a small village south of Ank'Harel where Shaun Gilmore's parents live.[4]
Shamal Bay is a bustling port city on the northern coast.
References Edit
Art:
Ad blocker interference detected!
Wikia is a free-to-use site that makes money from advertising. We have a modified experience for viewers using ad blockers

Wikia is not accessible if you've made further modifications. Remove the custom ad blocker rule(s) and the page will load as expected.