Stats
Character
Physical
Mental
HP
–
STR
–
INT
–
AC
–
DEX
–
WIS
–
DC
–
CON
–
CHA
–
[[:Category:{{{FanArt}}}|Fan art of Orthax]]
Orthax is a shadow demon who makes vengeance pacts. As an NPC, it is played by Matthew Mercer.
Description Edit
Appearance Edit
When Orthax manifested before Vox Machina, its black smoke coalesced into a humanoid form that continued to grow until it reached the roof of the ten-foot-tall tunnel they were in.[2] Its bird-like beak is the inspiration behind Percival's mask.
Personality Edit
Biography Edit
Background Edit
Orthax appeared to Percy, in what he thought was a dream, and offered him vengeance against those who destroyed his family.[3]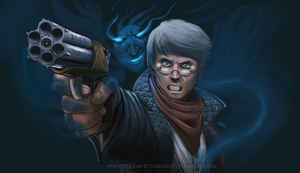 While on the hunt for the Briarwoods, Percy began to act increasingly more erratic and violent due to Orthax's influence. Dark smoke began to emerge from Percy's body and envelop him during these moments.[4]
When Percy tried to sever his ties to Orthax, it appeared and fought Vox Machina. As a precaution, Scanlan threw Percy's pepperbox pistol into acid, in hopes that that would sever its tie to him.
Orthax reappeared when Vox Machina caught up to Anna Ripley, as she had made a similar pact with it, and assisted her in the fight against Vox Machina on the Isle of Glintshore, which led to Percy's death at the hands of Ripley. Vox Machina was able to fell the demon, however.[5]
Even after being defeated, Orthax remained in the Material Plane through its attachment to Ripley's pepperbox, Animus. It used this attachment to grab hold of Percy's soul, preventing his resurrection until Keyleth managed to sever the thread connecting it to Animus through the use of Greater Restoration.[6]
Relationships Edit
Character Information Edit
Abilities Edit
Notable Items Edit
Quotations Edit
References Edit
Art:
Ad blocker interference detected!
Wikia is a free-to-use site that makes money from advertising. We have a modified experience for viewers using ad blockers

Wikia is not accessible if you've made further modifications. Remove the custom ad blocker rule(s) and the page will load as expected.