Chapter(s)
Pre-Stream
SpecialsC1
C2
C3
C4
C5
C6
C7
C8
Stats
Character
Physical
Mental
HP
–
STR
–
INT
–
AC
–
DEX
–
WIS
–
DC
–
CON
–
CHA
–
[[:Category:{{{FanArt}}}|Fan art of Pelor]]
Pelor, the Dawnfather, is the god of the Sun domain[2] and agriculture, and is generally worshiped by farmers and people who live off the land.[3] He is one of the prime creator gods of Exandria.[4] He is the creator of the Sun Tree in Whitestone. As an NPC, Pelor is played by Matthew Mercer.
Description Edit
Appearance Edit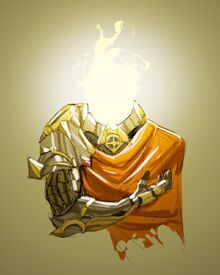 Pelor wears a white cloak over an intricate golden plate armor. Where a head would be, instead, there is a burning star. An almost featureless male head burns within the corona.[5]
Personality Edit
Biography Edit
Background Edit
Relationships Edit
Character Information Edit
Abilities Edit
Notable Items Edit
Quotations Edit
References Edit
Art:
Ad blocker interference detected!
Wikia is a free-to-use site that makes money from advertising. We have a modified experience for viewers using ad blockers

Wikia is not accessible if you've made further modifications. Remove the custom ad blocker rule(s) and the page will load as expected.