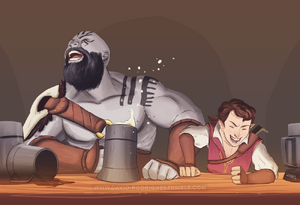 Grog Strongjaw and Scanlan Shorthalt were buddies and often spent their free time in the same pursuits.[2]
Scanlan was the first person to whom Grog told his concerns about Craven Edge, and Scanlan advised Grog on what to do about it.[3]
Grog was deeply affected by Scanlan's death at the claws of Raishan. His first reaction was disbelief, which soon turned to anger as he shouted for the rest of the party to "FIX HIM!"[4]
Grog participated in Scanlan's resurrection ritual, where he removed the Titanstone Knuckles and Belt of Dwarvenkind and placed them on the altar alongside Scanlan's body. He then spoke to his friend's body lying before him.[5]
The goliath then sang a song to the bard.
Ank'Harel
.
Other Intraparty Relationships Edit
References Edit
Art:
Ad blocker interference detected!
Wikia is a free-to-use site that makes money from advertising. We have a modified experience for viewers using ad blockers

Wikia is not accessible if you've made further modifications. Remove the custom ad blocker rule(s) and the page will load as expected.