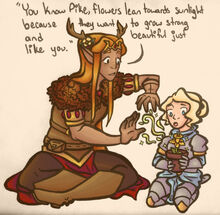 Despite having a huge distrust of the gods, Keyleth has a great respect for Pike and the two are good friends.
Before Keyleth departed for the Feywild, Pike told her that—despite being a cleric of Sarenrae—she still has control over her own life. She then gave Keyleth some advice about finding happiness and getting comfortable with Vax'ildan.[1] That advice eventually gave Keyleth the courage to confess to him.[2]
References Edit
Art:
Ad blocker interference detected!
Wikia is a free-to-use site that makes money from advertising. We have a modified experience for viewers using ad blockers

Wikia is not accessible if you've made further modifications. Remove the custom ad blocker rule(s) and the page will load as expected.