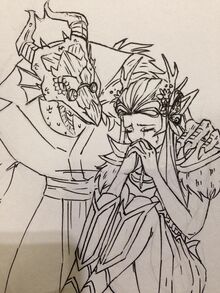 In the times that they traveled together, Keyleth and Tiberius had a strong friendship. Tiberius viewed Keyleth as elven royalty, and often referred to her as "Your Highness" when he tried to comfort her. For her part, Keyleth seemed to view Tiberius as a sort of advisor when she was upset, such as when she voiced her reasoning regarding her argument with Lady Kima.[1]
When Tiberius left, it was Keyleth he asked to say his goodbyes to Allura.[2] She was one of the members that were affected the most by the discovery of his body in Draconia, even keeping a piece of his robe for herself and being the one to personally bury him.[3]
Other Intraparty Relationships Edit
References Edit
Art:
Ad blocker interference detected!
Wikia is a free-to-use site that makes money from advertising. We have a modified experience for viewers using ad blockers

Wikia is not accessible if you've made further modifications. Remove the custom ad blocker rule(s) and the page will load as expected.