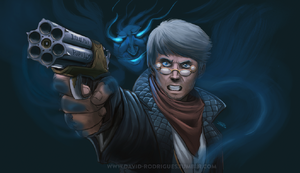 "The List" was Percival de Rolo's original pepperbox pistol, and the first gun he ever created under the influence of Orthax. At some point he had two of the barrels enchanted to shoot magical bullets: one with a fire enchantment and one with ice.
The name of the gun came from the inscriptions on five of the six barrels showing the names of people Percy sought vengeance against. The names on it were:
The sixth barrel was originally blank, but after Percy returned to Whitestone, the final name appeared: Cassandra de Rolo, Percy's younger sister.
It was eventually discovered that Orthax, the shadow demon Percy had unknowingly made a pact with, was bound to him through The List. This tie was severed when Scanlan took the pepperbox and threw it into a pit of acid.[1]
References Edit
Art:
Ad blocker interference detected!
Wikia is a free-to-use site that makes money from advertising. We have a modified experience for viewers using ad blockers

Wikia is not accessible if you've made further modifications. Remove the custom ad blocker rule(s) and the page will load as expected.