| | |
| --- | --- |
| | This article or section may require cleanup.  The spelling, grammar, or formatting may need attention.  The content may be out of place, overwritten, and/or contradictory.  You can help the Critical Role wiki by reviewing this article and cleaning it up. |
Chapter(s)
Pre-Stream
SpecialsC1
C2
C3
C4
C5
C6
C7
C8
Race
Dwarf
Lycanthrope (Were-Bear)
Class
Blood Hunter (Order of the Lycan)
Languages
Common; Bear (in were-bear form)
[1]
Status
Unknown after remaining in the Nine Hells
Character
Physical
Mental
HP
129
STR
20
INT
11
AC
16
DEX
12
WIS
14
DC
–
CON
16
CHA
8
[[:Category:|Fan art of Tova]]
Tova is a dwarven blood hunter and a were-bear. She is played by Noelle Stevenson.
Description Edit
Appearance Edit
Tova has dark auburn hair with a shock of white-gray in it, shaved on the sides of her head. Her left ear is torn to shreds and she has multiple scratch scars across her face.[3]
Personality Edit
Biography Edit
Background Edit
Tova came to the Nine Hells with a group of friends, most of whom were killed. Tova and her two surviving friends were imprisoned in Mentiri, the underground prison in the City of Dis. One of those friends had made a contract with a devil at some point, which Tova says was a very bad idea. Tova was eventually purchased from the prison by the pit fiend Utugash, who took her to his stronghold and proceeded to torture her in an attempt to corrupt her soul.[1]
Relationships Edit
Character Information Edit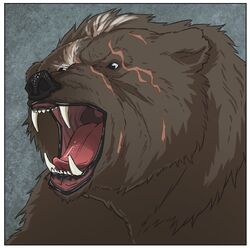 Abilities Edit
Blood Hunter Abilities Edit
Crimson Rite: Rite of the Frozen[4]
Heightened Senses (Order of the Lycan)
Blood Curses Edit
Notable Items Edit
Quotations Edit
References Edit
Art:
Ad blocker interference detected!
Wikia is a free-to-use site that makes money from advertising. We have a modified experience for viewers using ad blockers

Wikia is not accessible if you've made further modifications. Remove the custom ad blocker rule(s) and the page will load as expected.