| | |
| --- | --- |
| | This article or section may require cleanup.  The spelling, grammar, or formatting may need attention.  The content may be out of place, overwritten, and/or contradictory.  You can help the Critical Role wiki by reviewing this article and cleaning it up. |
Alignment
{{{Alignment}}}
Languages
{{{Languages}}}
Stats
Character
Physical
Mental
HP
60
STR
19
INT
4
AC
20
DEX
10
WIS
13
DC
–
CON
16
CHA
7
[[:Category:{{{FanArt}}}|Fan art of Trinket]]
Trinket is a bear and animal companion to Vex'ahlia. He is voiced by Matthew Mercer.
"Vax took to the cities, stealing small trinkets and learning the ways of the thief, while Vex kept to the woods. She preferred the isolation. Always the keen observer, she learned to hunt and to track, to spy and to shoot. And through a series of fateful events, earned herself a companion in the form of a bear—her own stolen Trinket—to fight alongside her and protect her fiercely. Also, he is adorable—and gives expert massages."
–from Vex'ahlia's intro[2]
Character Information Edit
Background Edit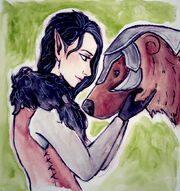 Vex and Trinket became companions when Vex accidentally trusted poachers too much and ended up being captured by them. Using her skills, she managed to escape from the poachers' cage and eliminate two of them. Vex found Trinket's mother, who was badly injured due to the poachers harvesting from her tortured but still-living body. Vex put the bear out of her misery before finding a young Trinket also in the cage.[1] After rescuing the cub, they have since been close friends.
Trinket has proven to be very intelligent, able to easily understand the commands that are given to him.[citation needed]
Before the Stream Edit
Trinket was nearly killed when Grog attempted to disarm a room full of traps by hitting the bear on his backside with the flat side of an axe, causing Trinket to charge straight into the traps, triggering all of them. Vex (and Laura) was very angry with Grog (and Travis) afterwards.
Chapter 1 Edit
Trinket followed Vex and Vax around Kraghammer, inadvertently scaring several of the Carvers (city guards).[3] He then accidentally ended up in a fight against the local tavern fighter Balgus before being polymorphed into a mouse and rescued.[4]
Trinket was outfitted with armor plating that was harvested from a bulette by Grog and reforged by a dwarf blacksmith named Karen in Emon.[5]
Chapter 2 Edit
Chapter 3 Edit
Chapter 4 Edit
Chapter 5 Edit
Chapter 6 Edit
Chapter 7 Edit
In "The Feast" (3x01), Vex taught Trinket a rolling attack that she named "Cannonball". As a trampling alternative to Multiattack, Trinket runs forward and curls into a ball in his segmented bulette armor, crashing through enemies in front of him that are his size or smaller, dealing bludgeoning damage to them all.[6]
After receiving a boon from the bear spirit Orlan, Trinket gained several abilities: he now gets a damage boost from Vex'ahlia's Hunter's Mark, he can use his Primal Fury once per short rest to gain advantage on attacks as well as critical attacks on natural rolls of 19 or 20, and if he falls unconscious within 100 feet of Vex and Raven's Slumber then he is immediately transported inside the crystal and stabilized.
References Edit
Art:
Ad blocker interference detected!
Wikia is a free-to-use site that makes money from advertising. We have a modified experience for viewers using ad blockers

Wikia is not accessible if you've made further modifications. Remove the custom ad blocker rule(s) and the page will load as expected.